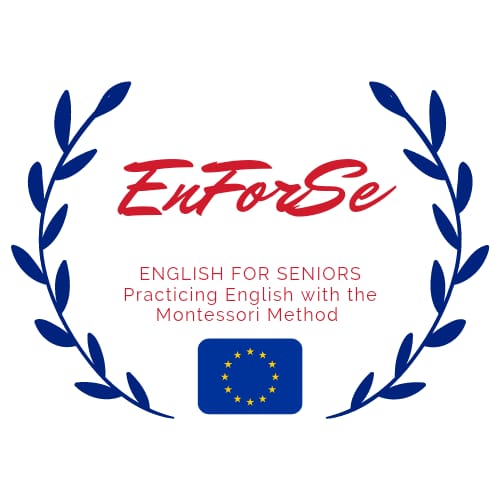 EnForSe – English for seniors, practicing English with the Montessori Method
Project Duration: 2020 – 2022
A large portion of the population is over 65, still healthy and life expectancy has lengthened and the quality of life has improved. These Seniors are still very active in supporting their children, help raising their grandchildren and would still like to learn. An important pillar of society, how effective they are, and some need to feel involved in the education path again, learning processes and social events.
Our challenge is:
Is it possible to teach the elderly?
Can the elderly actually learn? And learn a second language?
Our long term aim is to build bridges through aged persons in different European countries. The crucial point is to experiment with English, using it for communication and not just teach in the traditional theoretical way. Using the Montessori method to teach the elderly by creating places where you learn English, experiment with English, and participate socially in European culture and at the same time: the EnForSe Corners!
During the activities, these EnForSe Corners will give opportunities for meetings between Seniors who live in different countries and who use English to communicate.
Through this project, we will introduce to the Montessori Method a sort number of teachers and adult trainers in the field of language learning for adults.
Some of the target groups are retired workers in general, unemployed seniors that have never been able to graduate but wish to learn and restart their studies or simply seniors that need company.
Target:
10/15 seniors from each partner country will be involved in English lessons and EnForSe activities, the target of the total amount; 90 seniors, over 65.
18 English teacher trained in Montessori inspired methods for seniors.
EnForSe practical guidelines to teach English to seniors.
Outputs:
1 EnForSe special room created for sustainability and dissemination
6 EnForSe Corners created
6 EnForSe Multiplier Day Events implemented
Partners: Poland, Italy, Spain, Turkey, Germany & Finland.
The project is financed by Erasmus+ KA2: 2020-1-IT02-KA204-079745